Description
Whether you want to sew cute little dresses for your baby girl, or you want to repair your old clothes, this sewing machine from Singer will make everything fun and easy. Since this machine comes with a host of ergonomic features, it is perfect for both beginners and hobbyists.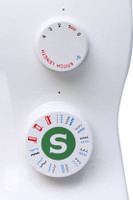 Easy to Use
This sewing machine comes with 21 inbuilt stitch patterns, comprising of 10 decorative stitches, 6 essential stitches, 4 stretch stitches and 1 automatic four-step buttonhole. It also features an automatic needle threader that easily threads the needle without you having to strain your eyes. Moreover, the snap-on presser feet helps you smoothly change from one presser foot to another.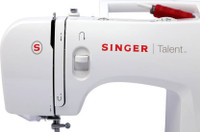 Drop-in Bobbin
Thanks to the drop-in bobbin on the top, tracking the thread usage has become easier.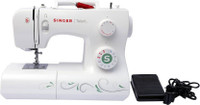 Extra-high Presser Foot Lifter
Whether you are adding borders to a saree or you are stitching a quilt cover, the extra-high presser foot lifter offers you more clearance when you are sewing layers of fabric. Moreover, this sewing machine automatically adjusts the presser foot pressure according to the fabric.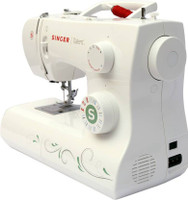 Robust Body
The metal frame of this sewing machine provides proper support to all the components inside for the perfect stitching alignment and durability. Its metal body also prevents it from skidding while you are sewing clothes.
Free Arm
Now easily reach the collars, hems of trousers, cuffs and other difficult-to-access areas with the free arm of this machine.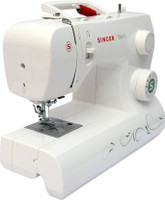 Excellent Stitch Quality
Thanks to the automatic tension feature, you get consistently straight stitches, irrespective of the fabric. The Automatic Reverse lever lets you effortlessly sew in reverse to reinforce your stitches. The twin needles let you make your sewing projects more beautiful and decorative. Moreover, you can change the position of the needles according to the project, such as top-stitching, inserting zippers and so on.
Storage
The on-board storage compartment allows you to keep all your sewing-related accessories within your easy reach.